New International Research Project Improves Lives For Alzheimer's Sufferers
Mon, 10/10/2011 - 4:35am
Comments
DECIDE infrastructure combines high speed GÉANT and national research networks with powerful computers to enable earlier diagnosis and treatment
Cambridge, UK, 10 October 2011 – A ground breaking international research project that aims to help sufferers from Alzheimer's Disease and other dementia conditions has been showcased at the Alzheimer Europe conference, which ended yesterday.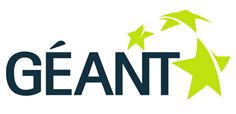 GÉANT logo
DECIDE (Diagnostic Enhancement of Confidence by an International Distributed Environment) uses high speed research links such as the pan-European GÉANT network to help doctors make earlier, more informed diagnoses, improving the quality of life for Alzheimer's sufferers and their carers. Begun in November 2010, the first version of the service, based on Statistical Parametric Modelling (SPM) techniques, has been validated and tested in the first half of 2011 prior to wider release. At the Alzheimer Europe event, the project is demonstrating the potential of the GriSPM algorithm, which evaluates brain metabolism and perfusion, comparing these markers with existing data to aid both diagnosis and research.
With no cure for dementia conditions such as Alzheimer's and an estimated 750,000 sufferers in the UK alone (and 7.3 million in Europe), the medical focus is on earlier diagnosis to help ensure patients receive the best care possible. DECIDE works by allowing doctors to access its secure portal through their web browser and upload patient medical scans. It then uses grid computing and high speed networks to handle the intensive processing needed to analyse the data, extracting any markers that demonstrate the onset of Alzheimer's and providing the results back to the doctor.
Through the use of advanced medical imaging technology, the neurological data that researchers and clinicians collect is increasing dramatically. However as data has grown, so has the computing power needed to manage and analyse it, making it too difficult and expensive for individual hospitals.
DECIDE solves this issue by bringing together high speed research networks, distributed databases, powerful diagnostic algorithms and grid computing to provide a secure, user-friendly service to clinicians across Europe. Currently DECIDE has over 1,000 CPU computing processors, with 70 terabytes of storage and is working in partnership with the pan-European GÉANT network, as well as Italian national network GARR, to design a network that matches its needs. GÉANT works with types of medical networks and to make it seamless and transparent to the end user, GÉANT's perfSONAR monitoring tool is being used to monitor service across the multiple network domains that make up the DECIDE infrastructure.
"Enabling earlier diagnosis of conditions such as Alzheimer's is critical to improved patient care," said Fulvio Galeazzi, DECIDE Project Coordinator. "DECIDE will ensure that the diagnostic process is much more straightforward and simple, using distributed computing resources and the power of the GÉANT network to create an advanced e-infrastructure that spans the entire European medical community and enable clinicians to make better informed decisions, at the click of a mouse. Our demonstration at the Alzheimer Europe event showed the potential of the service both in research and underpinning earlier diagnoses."
DECIDE, which is funded by the European Union, is an international project that brings together 13 research teams and organisations from across Europe. These include the Imperial College of Science, Technology and Medicine in London, GARR, the Italian research and education network, Alzheimer Europe and the Centre Hospitalier Universitaire de Toulouse (France), acting on behalf of the European Alzheimer Disease Consortium.
"To analyse the growing mountain of medical data now available to doctors requires a powerful computing infrastructure that needs to operate internationally to facilitate the close collaboration between clinicians and researchers," said Niels Hersoug, Joint General Manager of DANTE, the organisation which on behalf of Europe's NRENs has built and operates the GÉANT network. "What is vital about the DECIDE project is that while it uses complex technology, it is simple, secure and easy to use for doctors, and delivers major benefits to patients and their families, dramatically improving their quality of life. Together with the NRENs, the GEANT network provides the networking capability necessary for this important application."
Looking forward, the researchers will also develop other diagnostic algorithms to search for new markers within the DECIDE infrastructure. In the longer term the infrastructure could also be extended to cover algorithms relating to other diseases of the brain and other organs, involving the whole life science research community.
-ends-
About DECIDE

The aim of DECIDE (Diagnostic Enhancement of Confidence by an International Distributed Environment) is to design, implement, and validate a GRID-based e-Infrastructure building upon neuGRID and relying on the Pan-European backbone GEANT and the National Research Networks (NRENs).
Over this e-Infrastructure, a service will be provided for the computer-aided extraction of diagnostic markers for Alzheimer's disease and schizophrenia from medical images. DECIDE will offer access to large distributed reference databases (850 and 2200 datasets from normal subjects and from neurological subjects, respectively), high computation and storage resources (more than 1000 CPU core processors and 70 Tbyte of storage) and intensive image processing tools.
DECIDE will be open to the implementation of future algorithms based on other neuroimaging methods; in a longer-term perspective, the infrastructure could be extended to other research and diagnostic algorithms relating other diseases of the brain and other organ systems.
For more information: www.eu-decide.eu, info@eu-decide.eu.
About GÉANT

GÉANT is the high speed European communication network dedicated to research and education. In combination with its NREN partners, GÉANT creates a secure, high speed research infrastructure that serves 40 million researchers in over 8,000 institutions across 40 European countries. Operating at speeds of up to 40 Gbps, GÉANT is the world's largest and most advanced multi-gigabit network dedicated to research and education. Building on the success of its predecessors, GÉANT has been created around the needs of users, providing flexible, end to end services that transform the way that researchers collaborate. GÉANT is at the heart of global research networking through wide ranging connections with other world regions, underpinning vital projects that bridge the digital divide and benefit society as a whole.
Co-funded by the European Commission under the EU's 7th Research and Development Framework Programme, GÉANT is the e-Infrastructure at the heart of the EU's European Research Area and contributes to the development of emerging internet technologies. The project partners are 32 European National Research and Education Networks (NRENs), TERENA and DANTE. GÉANT is operated by DANTE on behalf of Europe's NRENs. For more information, visit www.geant.net
About DANTE

DANTE is a non-profit organisation, coordinator of large-scale projects co-funded by the European Commission, and working in partnership with European National Research and Education Networks (NRENs) to plan, build and operate advanced networks for research and education. Established in 1993, DANTE has been fundamental to the success of pan-European research and education networking. DANTE has built and operates GÉANT, which provides the data communications infrastructure essential to the success of many research projects in Europe. DANTE is involved in worldwide initiatives to interconnect countries in the other regions to one another and to GÉANT. DANTE currently manages projects focussed on the Mediterranean, Asia-Pacific and central Asia regions through the EUMEDCONNECT, TEIN and CAREN projects respectively. For more information, visit www.dante.net.
Contact:

Paul Maurice
DANTE
+44 (0)1223 371 300